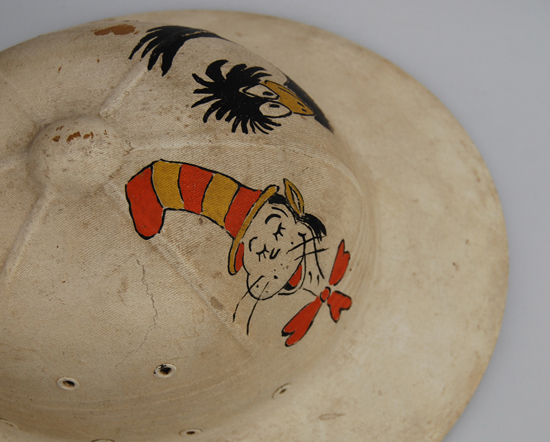 "Trench Art" has existed long before the horrors of the First World War, and it was commonly known as "soldier art" for centuries. Probably for as long as soldiers marched off to war they created pieces of art and personalized their equipment.
While American soldiers also came home from the "Over There" at the end of the First World War with painted steel helmets, by the Second World War the practice of decorating a helmet was frowned upon – although personalization made a comeback on the helmet covers during the Vietnam War.
One helmet pattern that has been seen to have gotten the personalized touch was of course the American pressed fiber sun helmet, as we noted in our article "The Art of the Helmet." Now another fascinating example has come to light – and for lack of a better name it is simply "The Cat on the Hat."
What makes this helmet unique is that is that someone showed some serious artistic talent and embellished the helmet with the Dr. Seuss character "The Cat in the Hat," as well as rather perturbed bird, a spotted leopard and possibly the artist's name: "Bob."
The helmet, which came out of an old estate, likely dates from the Vietnam War Era. It is a Hawley Products Company produced helmet with two grommets for ventilation as well as badge on the front. This pattern helmet was known to have been produced in gray for use with the United States Navy in the 1960s.
This helmet appears to have seen some use – but the context, whether military or civilian is unknown. It could be soldier art, or it could just be a very fancy decoration on someone's sun helmet – someone likely named "Bob!"
Peter Suciu
November 2014