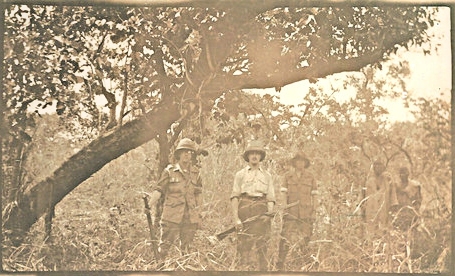 In my world, the pith is not a sun helmet, but a crown.
And, to the wearers I study, the coronation is justified.
For just over a year I have been a staunch collector of not sun helmets, like my dear friend Stuart – although I dream of graduating to such an assemblage – but antique safari and big game hunting photographs, none of which are complete without firearm, fauna, and of course, the very symbol of adventure, the pith helmet.
Some shots are sepia, others black and white, and others still albumen and real-photo postcard. But all, unmistakably, capture the same ambiance of the soul trapped within – grave pride, brusqueness, valor. Which is why I say, with sheer fascination, that the helmets most infamously seen in my collection transform the frank, successful hunter towering over his kill from man to legend.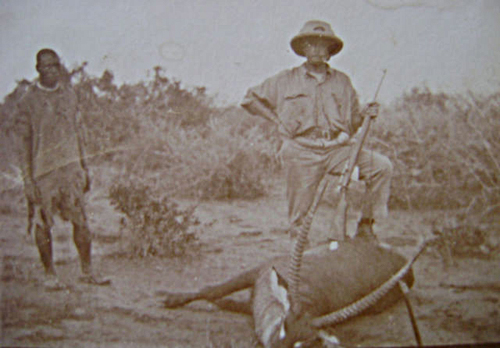 This is my personal theory explaining the "Golden Age" of safari hunting, which took its peak in the early 20th century after the Dark Continent had finally been somewhat illuminated by the discoveries of the Blue and White Niles sources and the completion of the Uganda Railway into East Africa. To the Edwardian, upper-class Westerner, gruffness was a virtue. And,  in a time of relative peace, something to be proven. Masculinity, potency, and domineering power could all be exemplified by going from white-gloved to White Hunter; the adopted term for these adventurous big game predators.
Within every photo, you can feel how important this excursion was. They do not smile. They treat the camera as though they are worthy of its respect. Mind, even upper-middle class men could scarcely afford the production of a safari hunt, which included tens of porters, tents, transport, and equipment, some of which would include quantities of malaria-preventing quinine and large caliber rifles like the mighty Elephant Gun, which was designed by big game hunters to stop deadly elephant and rhinoceros charges.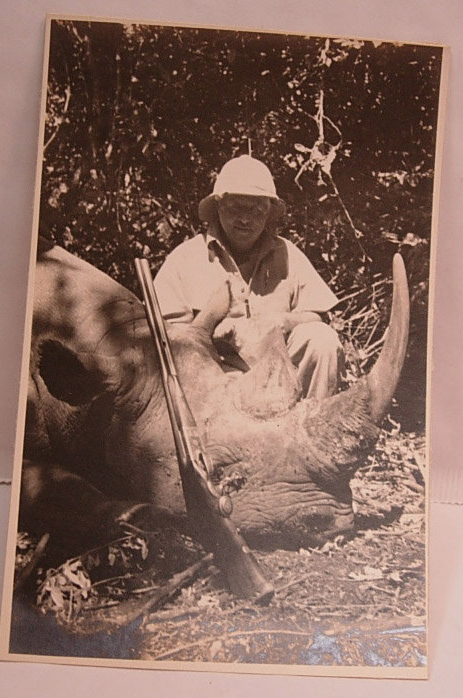 Just ask Henry. One of my favorite models of the pith helmet, but a ruthless imperialist at that, Henry Morton Stanley was renowned for his exploration of Africa with a caravan of necessities (and perhaps several un-necessities) carried by Africans, one of which, you might recall, he threatened at gunpoint –"If you drop that, I will shoot!" as the cargo was waded across a roaring river. Stanley, whose calm, strolled-up-to rescue of a years-missing Dr. Livingstone in an African village ("Dr. Livingstone, I presume?") bids him too unaffordable for my photograph collection, joins Theodore Roosevelt, Ernest Hemingway, and even H. Rider Haggard's fictional "Allan Quartermain" as historical figures and gentlemen-adventurers who have famously dabbled in costly African expedition and Big Game Hunting.
But for the not-famous, for the wealthy but nameless, these splendorous moments of glory standing before their animal trophy was the trophy itself. In a way, the callous, meaningless killing of Africa and India's greatest creatures must have been a rite of passage; a brazen belief that the loss of the beast's life would be a gain in theirs. The pith helmet, in all varieties of Bombay Bowler, Wolseley, Cawnpore Tent Club, and a few older peaked ones I shamefully don't recognize, not only shielded off  javelins of burning sunlight, but acted as a sacred garment; an assumed accomplice to the hunt.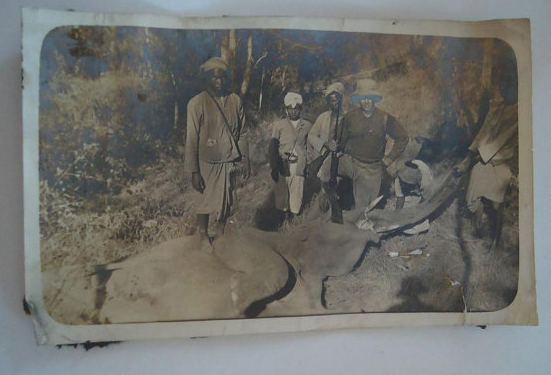 At eighteen, I have written nine novels and three children's books. My fifth novel, set in 1895 Great Britain, is called Emporium, and is also the birthplace of my rabid interest in safari. In an alternative history, during the era that saw to the creation of a noxious gas which averted WWI, nearly all the wild animals became extinct as unfiltered toxins seeped into their ecosystems. Thus, this society's celebrities are not musicians or inventors, but Hunters, who brave the barren, dangerous wilderness in pursuit of the last living animals for the last living zoo in the world, the Emporium.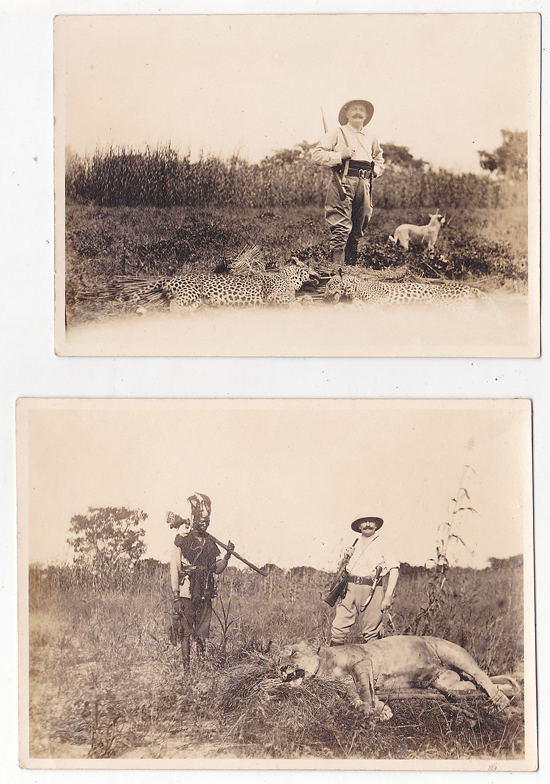 In a way, having been confined to a wheelchair my entire, defiant life, I sympathize with the thirst for adventure I share with my characters and I think I share with the souls preserved in my vintage photographs. A desperation for freedom, to prove yourself, to feel like someone in a world frozen in superficiality, is a scary thing. We're a hundred years apart. But they are just like me. Each time I peruse a picture, I hold a piece of history that will otherwise never be seen, a name never be read, eyes never gazed into ever again. Just on the other side of that lens.
And maybe they're looking into my side too. Wondering what it is I have to prove as well.
Shea C. Megale