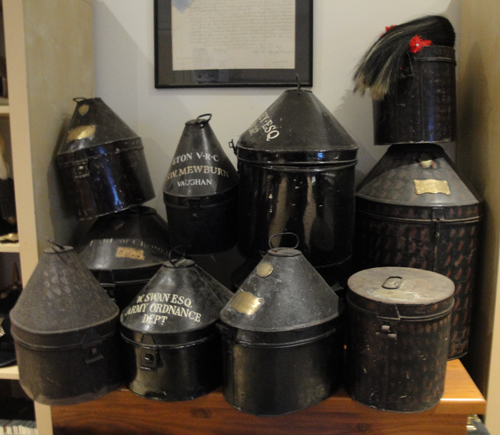 When officers purchased their helmets, busbies, forage caps etc. they most often also purchased a storage/transit tin to protect their valuable items of headgear.
These came in various shapes and sizes to suit the type of headgear and could be ordered in both single and double configurations. For example, a wealthy officer may have purchased both a white and a khaki helmet and might therefore order a double tin.
Tins came in single or double helmet configurations. There were at least two variations of double tin interiors.
Tins were of a japanned metal construction. Japanning was a process of applying a heavy black lacquer in layers to the metal. Each layer was allowed to dry either naturally or by the application of heat. After the last layer the tin was polished to a glossy finish. Black and dappled red/black are the most commonly encountered finishes.
These tins were labelled with brass plaques, or stencils, naming the maker and also the owner and his regiment, although not all tins have the owner's name or, indeed, the maker's label.
Other Ranks (Enlisted men) were issued with cotton bags to protect their helmets, although there is some doubt as to whether they were extensively used. But it should be noted that lost equipment etc. had to be accounted for.
The method of locking the tin seems to have had two variations; the first using a lock and key and the second a hinged clasp through which a padlock could be used.
Stuart Bates