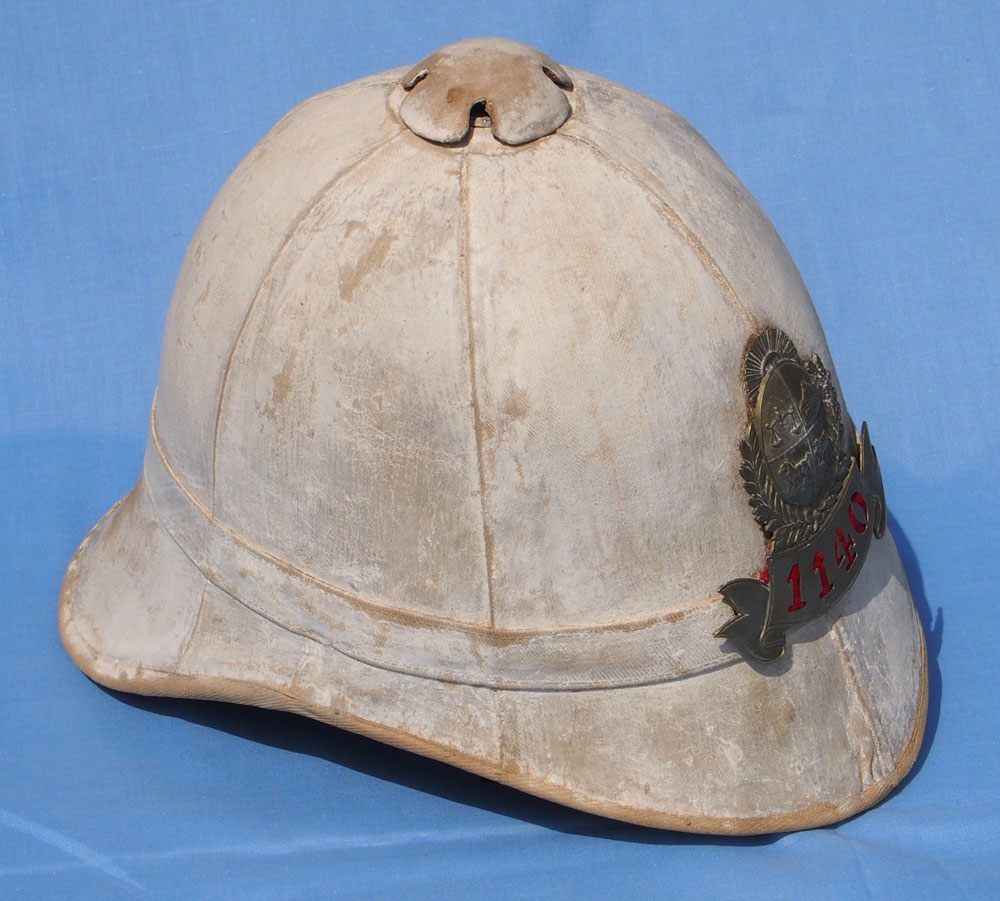 While many South American countries adopted sun helmets that were based on the British Foreign Service Helmet and the French Model 1878 pattern sun helmet, we would be remiss to describe these as "colonial pattern" helmets – notably as many of Latin America's nations were actually former colonies of Spain. Thus while the helmet was the high domed pattern these were worn by the fully autonomous and independent government armies and military styled police forces – not by a colonial force.
What is unique about these South American helmets too is that little has been documented on their use, and even where these helmets were made isn't entirely clear. This example above dates from the late 19th century or early 20th century and certainly does feature lines that show a British and French influence. It is a six panel helmet and features the Uruguayan military styled police badge on the front.
Exactly how long this helmet pattern was used isn't clear but Uruguay had strong ties to France, and followed French military traditions from the nation's civil war until well into the 20th century. The nation was part of the Triple Alliance along with Brazil and Argentina and fought a devastating war against neighboring Paraguay.
From 1875 and 1890 the military became the center of power in this nation and it is likely when this pattern of helmet was introduced. This pattern likely remained in use, along with other forms of headgear until the nation adopted a new pattern of sun helmets based on the French Model 1931 – a topic we have discussed previously. As with other nations of Central and South America after World War II these expensive cork helmets were replaced by the far cheaper pressed fiber helmets.
Still this 19th century "colonial pattern" style helmet shows a classic look from a bygone era. This particular example was obtained recently by the author and unfortunately the dome was damaged in transit. This should serve as a reminder to readers that these helmets should be well packed for shipping – as it is a shame that this extremely rare example survived more than 100 years only to be damaged on its way to the author.
Peter Suciu
July 2017