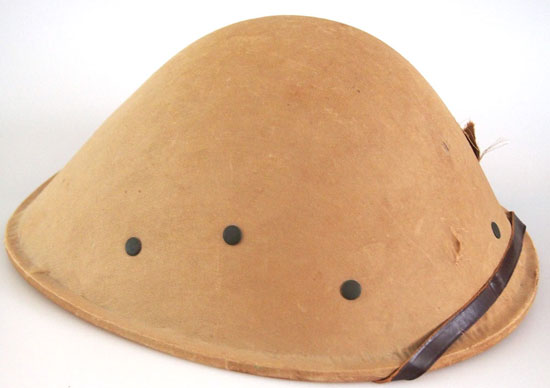 When we previously wrote about The Forgotten American Experimental Sun Helmet back in August 2015 we weren't sure how many of these helmets existed. Then a few weeks later we followed up when collector Marc Giles shared images of just such rare helmet in his collection, along with previously published information on the helmet.
At the time it was assumed that our friend Mr. Giles may have owned the only surviving example. That particular helmet was the only one known to exist in any collection – then in December 2016 another one surfaced. This reporter was contacted by Raymond Moore who had found the same pattern helmet at an estate sale.
The original owner of the helmet was Gene D. Knight, who according to public records was born in 1927 and enlisted in the U.S. Army in December 1945. He never married or had children according to his service records.
Mr. Moore was able to add, "I picked it up at the estate auction of the veteran along with an Ike jacket with 2nd Inf. Div and 6th Army patches on it. In the photos of the auction was some paperwork about Task Force Furnace."
That does suggest that Mr. Knight had likely served as part of the U.S. Army's study of hot weather equipment. Unfortunately no other equipment or uniforms were in Mr. Knight's estate, but it is fascinating that he likely was able to keep the helmet – and that suggests that other examples may be sitting in basements and attics and we can only hope.
At this point it does seem that there are at least two examples of this extremely rare helmet. However, until photographic evidence is presented we assume that these may unfortunately be the only two such examples.
My thanks to Raymond Moore for both finding this helmet and agreeing to allow me to purchase it. I wish Mr. Moore many years of finding similar treasure and happy helmet hunting!
Peter Suciu
January 2017