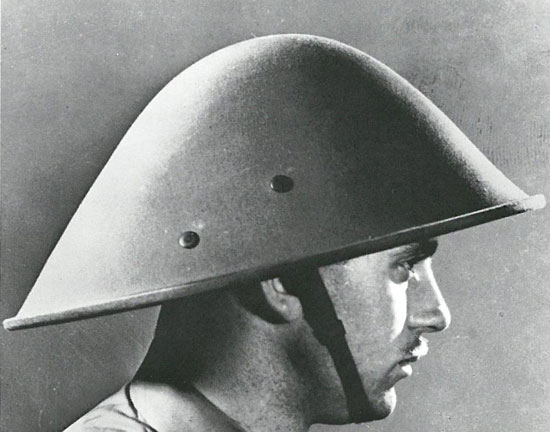 Following the end of the Second World War American military planners considered a number of replacements for the M1 steel helmet, yet it wasn't until the late 1970s that the PAGST (Personnel Armor System for Ground Troops) was developed. It was made of Kevlar and was a major departure from the steel helmets that had been used since the First World War.
However, during the 1950s the American military also apparently considered a lightweight helmet for use tropical areas where the rays from the sun were often as much as a problem as enemy bullets. The helmet was never adopted and this author has only once even seen an example for sale.
In fact, little has even been written about this pattern, and it doesn't even have a known name or model number. In his book Steel Pots author Chris Armold included one of only a handful of known photos (shown above) of the helmet, and he wrote, "this helmet, designed in the early 1950s was for tropical use. It appears the material used is the construction is something other than steel." That photo was credited as a "U.S. Army Photo – Courtesy of the Quartermaster Museum." The museum has no known examples of the helmet however.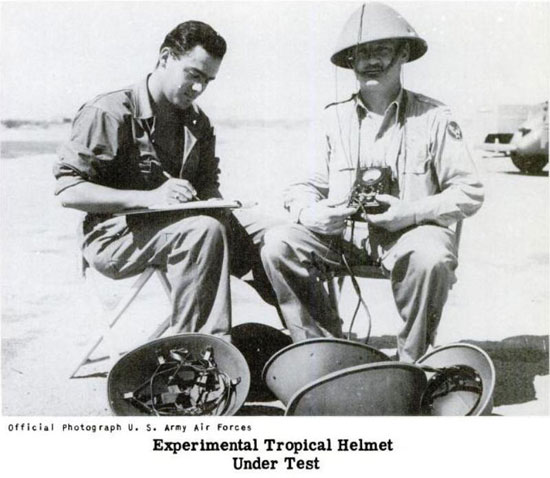 The helmet showed up in an "Official Photograph" of the United States Air Force (above) where it seems to have been used in testing with radio equipment. Note that next to the three "experimental tropical helmets" on the ground is what appears to be a typical American pressed fiber sun helmet – suggesting that perhaps this unnamed experimental helmet was tested alongside the pressed fiber helmets. No other information is known about the helmet
The helmet does turn up in U.S. Army and U.S. Air Force Recruitment ad that ran in the Popular Mechanics magazine in the 1950s. In that ad (below) the caption merely notes that the illustration includes soldiers wearing a "streamlined helmets to guide cooling air around the nape of the neck."
Another period image (below) from Popular Mechanics (1947) seems to show a "foot soldier" in a "Nylon uniform" and this time the unique headdress is only described as a "coolie" helmet – suggesting that the pejorative term "coolie" was acceptable at the time in a major magazine!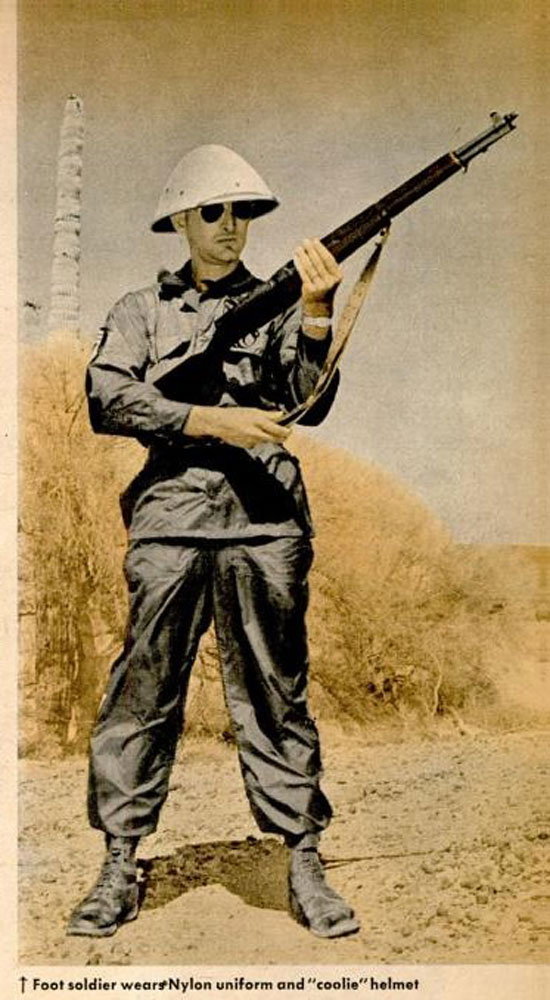 It is unknown how many survived, but as noted this author did once see one for sale on eBay – and I now deeply regret not jumping on the chance to own it. Until another surfaces it will remain a mystery to the larger sun helmet collecting community.
Peter Suciu
August 2015