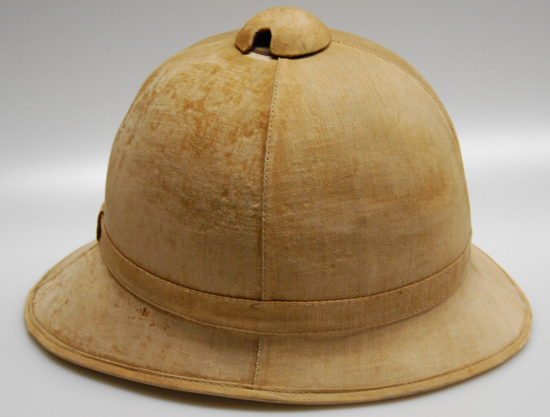 While much has been written about the M1887/89 pattern American sun helmet – including by this author – there is the far less encountered M1880 helmet. This designation actually appears to have been used interchangeably over the years to describe the helmet pattern above, as well as the used by various National Guard units.
The Model 1880 helmet was the first style of helmet adopted by the American military, and reportedly only some 6,000 were produced. As with the later patterns this helmet features a four-panel construction.
As author Gordon Chappell noted in his book Summer Helmets of the U.S. Army, 1875-1910 (Copyright 1967, by the Wyoming State Archives and Historical Department), "The Model 1880 cork summer helmet different most noticeably from the pattern produced after 1889, in the generally shallow pitch to the visors, the shorter rear nape, and the presence of the drawstring at the top of the sweat-band within the helmet's interior."
While numerous sources, including those of Chappell, note that in fact some 6,000 of these were produced, few apparently survive. It is not clear if these were all issued or not, but surviving examples suggest little – if any wear. This could indicate that the military planners were unsatisfied with this pattern, and could explain why just a few years later the Model 1887 helmet was adopted.
What is also worth noting is that the M1880 helmet appears to be khaki in color, while the M1887 was originally produced in white drill cloth and then modified in 1889 as the Model 1889 with khaki cloth. Did military planners want a more parade ready white helmet?
Finally, the former pattern – the M1880 – appears to have highly influenced the various National Guard pattern helmets that were used in the final decades of the 19th century.