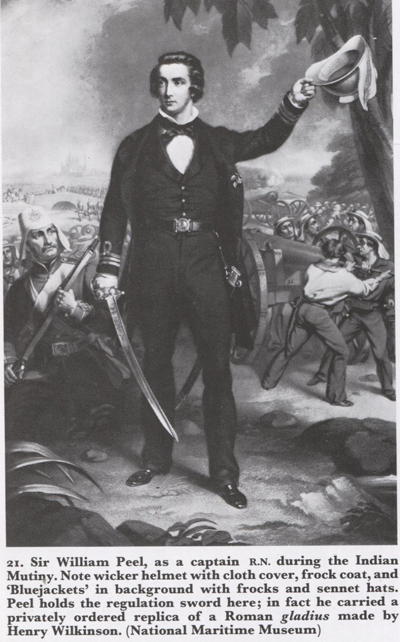 Although not officially established as part of a tropical uniform for officers until 1885, the sun helmet was used unofficially as far back as the Indian Mutiny (1857-1858). It was described as being a "white helmet with blue pagri." 1
Whether this description means a full puggaree of blue cloth is debatable as an entry in a military and navy outfitter's catalogue states explicitly a white puggaree with a narrow blue stripe which is what is most commonly seen in photographs and extant examples. 2
The above photo of officers of the Naval Brigade during the 2nd Anglo-Boer War (1899-1902) shows a plain white helmet to which was presumably added a khaki cover. 3
With the introduction of the Wolseley helmet to replace the Colonial Pattern helmet in the army circa 1904, the Royal Navy followed suit in 1906. 4
The Wolseley was also used by the Royal Naval Division during the Gallipoli Campaign 1915-1916. "At the declaration of the war on 4 August 1914, there was a surplus of some 20-30,000 men of the reserves of the Royal Navy who would not find jobs on any ship of war. It was recognised that this was sufficient to form two Naval Brigades and a Brigade of Marines for operations on land". 5 The RND were equipped as for the army but wherever possible retained some vestige of their navy origins.
In 1921/1922 the Sennet straw hats worn by Ratings were replaced with helmets similar to the Wolseley but with a simple round brim angled down and with the tally band identifying the ship. The tally band was replaced in 1939 (AFO 1266/39)  as follows "Ratings in Class I and III uniforms [not dressed as seamen] serving abroad are in future to wear a badge indicative of their substantive rating on sun helmets in a corresponding position to the badge worn on the cap. The badge will be of metal gilt for CPOs and POs, enamelled blue for ratings below PO and of similar design to the cap badge." 6
It is not known when this last style of helmet was introduced but according to information supplied to the author "In 1950 sun helmets still appeared in uniform regulations. We do not have a date when they were discontinued, but believe it was prior to 1955." 7 Any further information on these last two points would be very much appreciated.
Stuart Bates
Wilkinson-Latham, Robert, The Royal Navy 1790-1970, Osprey Publishing, England, 1977
Perryman, John, Kit Muster, Uniforms of the Australian Navy, Sea Power Centre,  2011
Haythornthwaite, P.J., The Boer War, Uniforms Illustrated No.19
Perryman, John, Kit Muster, Uniforms of the Australian Navy, Sea Power Centre,  2011
In conversation with the Curator of Artefacts the Royal Naval Museum
Ibid.