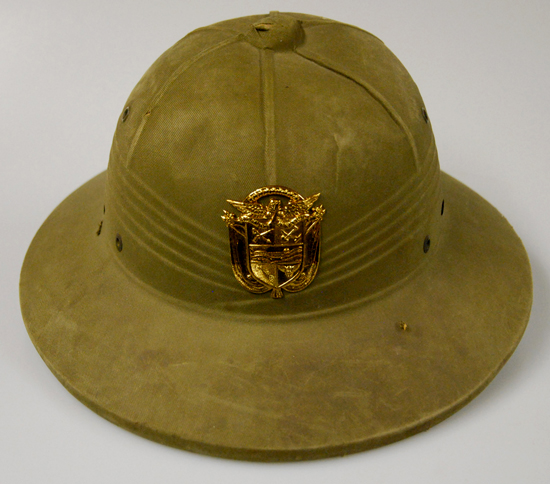 The tropical climate of Panama is one where sun helmets are truly practical. Thus it is not surprising that the Panamanian Defense Forces did use some American pressed fiber sun helmets prior to, and even during, the December 1989 U.S. invasion of Panama known as Operation Just Cause.
This operation occurred to depose Panamanian leader, general and dictator Manuel Antonio Noriega  – the nation's Maximum Leader – and to safeguard American lives and interests in Panama.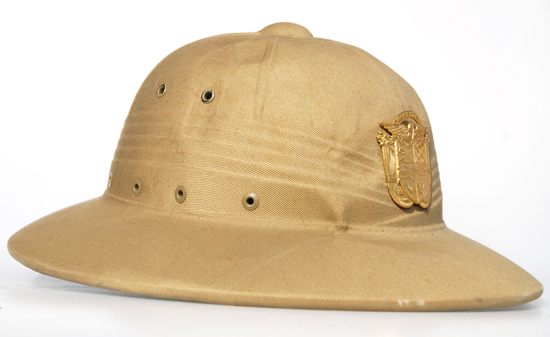 Both of these examples were purchased in Panama by the author at a military surplus store in Panama City. These feature the PDF insignia on American-made pressed fiber helmets. The differences in the shades in these examples suggest that there was no standard color.
Among those forces loyal to Noriega were the Panamanian Defense Forces (Fuerzas de Defensa de Panama), which he organized from the former Panamanian National Guard (Guardia Nacional), which was founded in 1953.
Commonly known as the PDF, this loyal army of Noriega's utilized various American equipment including the M1 steel helmet. However, the PDF also seems to have used the press fiber helmet, and these are believed to be of American manufacture and could have been left behind in the Canal Zone by American forces dating back as far as World War II.
 Peter Suciu