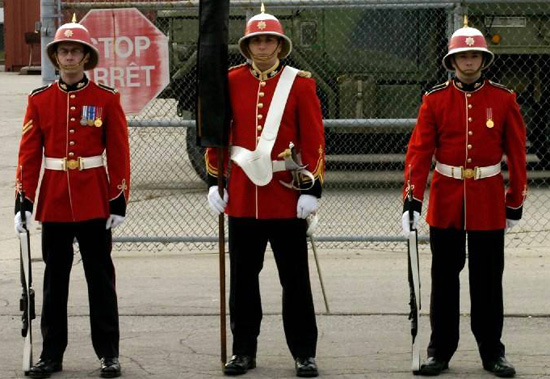 While the Wolseley helmet was declared obsolete in 1951 in a List of Changes, several British and Commonwealth units continue to wear the helmet a part of the full dress uniform. This includes of course the Royal Marines, which wear the helmet as part of their number 1 or dress uniform. Additionally, Australian Army Bands, including the Royal Military College Duntroon, still wear the Wolseley helmet.
In keeping with the British practice the white Wolseley became the de facto full dress headdress for any Canadian unit that did not already lay claim to specific full dress headdress. As such the Wolseley continues to be worn by most Canadian Infantry Regiments, but while the helmet retains the same basic shape – and look (at a distance at least) – the materials have changed. The modern Wolseley isn't made of cork, or even pith, it is made of a fiberglass type material.
One such unit that wears this modern Wolseley is the Royal Canadian Regiment. The Permanent Force (Regular Force) element of the RCR was formed as the Infantry School Corps in December 1883. Since that date the RCR has been involved in nearly every conflict and operation that has seen the deployment of Canadian Forces units or personnel.
The white full dress Wolseley helmet features a cloth puggaree and metal fittings, including brass spike and chinchain, along with metal slider badge. However, the shell of the helmet is as noted a molded fiberglass material.
Peter Suciu