According to the former owner, this part of Sir Norman´s legacy – consisting of his Wolseley helmet, album of photographs, Royal Warrant, some more papers and his fly whisk –  came from a private house auction and was brought there for fancy dress purposes. A nice idea – and a nice imagination as well, to go to a fancy dress party just covered with Sir Norman´s helmet and swinging his fly whisk. If one gets arrested dressed like this – there is still the Royal Warrant, signed by George VI., to have at least some kind of legitimation. But were to put it without a pocket? Maybe folded in the liner of the helmet, the same place where Lord Kitchener, according to his biographer Philip Magnus, carried dispatch leaflets with him.But seriously, though the uniform is not present any more, one of Sir Norman´s photographs shows this very helmet as it was used with the formal dress. The album contained as well two documents that explained the reason for taking pictures in formal dress, Edgley´s appointment as a judge at Calcutta High Court in 1939. So, altogether, this well documented usage of a military sun helmet by a member of the civil service is worth showing.
Edgley was born in 1888. Having studied at Oxford and passed into the Indian Civil Service (ICS) in 1910, he held different positions in the legal administration of British India. After the British withdrawal from India, Edgley served as judge with the Allied High Commission in the British zone of occupation in Germany from 1948 to 1955. He died in 1960.
The album itself is a nice document of Anglo-Indian photo-graphical history. The cover and the photographs inside are signed Bourne & Shepherd, Calcutta. This company, first founded in 1863, does still exist today! Samuel Bourne became famous for the pictures of Indian people and landscapes he took between 1863 and 1870. Later, his company was something like the premier photographers in their trade, being official photographers on many state occasions, with branches in most centers of Anglo-Indian life, like Simla. The album contains photographs of Edgley in five different poses, one showing him with his Wolseley helmet on a table beside him.
Like the helmet, Hawkes presumably made the whole garment, as they apparently did not only find customers among military personal, but among other branches of civil service as well, for they advertised in publications like the Foreign Office List.
Sir Norman had had an interesting professional life with appointments in places as different as India or postwar Germany. According to Who's Who, he was as well keen on archeology and travel. So he must have seen quite a lot of the world.
Finally, research on Sir Norman showed that even his library was spread to antiquarian booksellers literally all over the world – England, USA, Germany – traceable by his beautiful bookplate, mentioned in the seller´s descriptions. So, a book on Dacca was found in the UK, a copy of Byron´s Poems in the US and Baedeker´s Guide book "Westfalen" in Berlin. Weather he dropped them himself when leaving a country or they "travelled" again alone after his death, is not known. One useful thing, at least, he kept: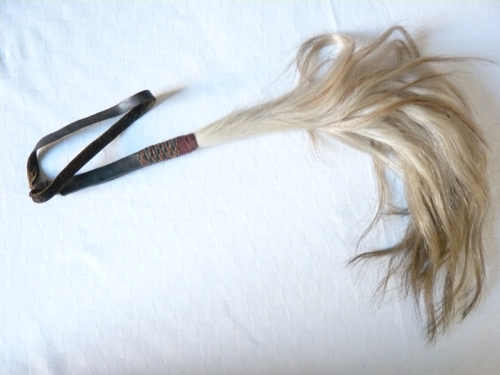 Roland Gruschka