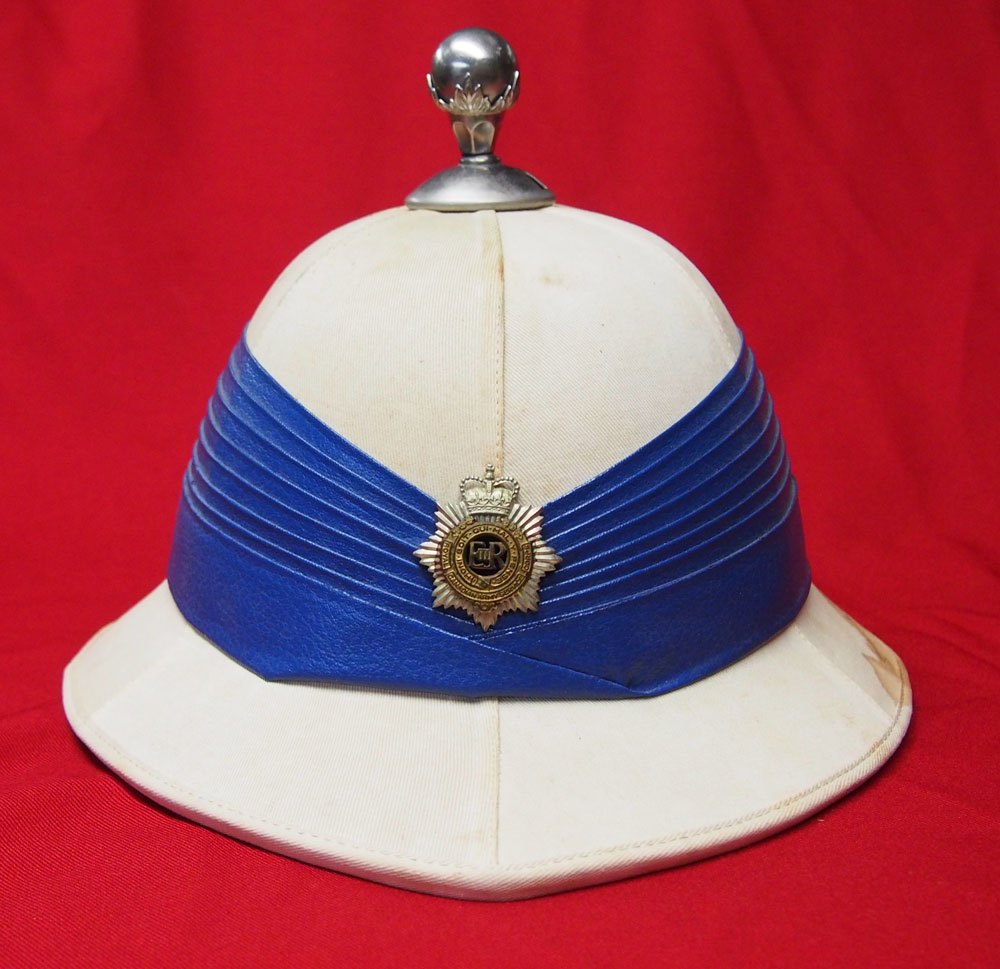 To this day the Wolseley helmet remains part of the dress uniform of much of the Canadian Army, and this included the Royal Canadian Army Service Corps, which was unique in that it worn a blue puggaree.
Established in the Non-Permanent Active Militia in 1901 the Canadian Permanent Army Service Corps was redesignated The Royal Canadian Army Service Corps in November 1919. In recognition of the services rendered during the Great War, His Majesty King George V authorized the designator "Royal." The CASC was modeled directly on the British Army Service Corps to provide all transportation and supply services to the Army. Initially, the CASC consisted of four companies to support the Active Militia units. The Corps grew quickly, doubling the number of units by 1903, and growing by another three companies by 1905. By the summer of 1914 the CASC had a strength of 3,000 personnel in 18 companies.
As noted in Clive Law's book Fuss & Fashion, the Wolseley helmet was introduced into Canadian Service in July 1910 by Militia Order 260. This was published in 1911 as Militia Order No. 490:
"Wolseley pattern helmets will now be issued to the Permanent Force in exchange for the old pattern white helmets. Officers Commanding units should indent for them in the usual manner, and, on their receipt, should return the old pattern helmets to the Ordnance charge. The metal fittings and pugarees now in charge of units will be retained for use on the Wolseley helmet and, therefore, will not be replaced."
Law also noted that General Order 114 of 1906 allowed the issue of puggarees to all NCOs and Men of the Permanent Force, as well as authorizing the wear of a badge, which was identical to that worn on the field service cap or helmet.
The World War I era and early inter-war Wolseley helmets of the Royal Canadian Army Service Corps featured a cloth puggaree, but this was replaced by an industrial adhesive tape sometime just after the end of the Second World War.
The original badge featured the King's Crown and a Canadian beaver in the center and in the scroll denoted "Canadian Army Service Corps." Following the designator "Royal" in 1919 the badge was redesigned and featured the cipher GR for the King in place of the beaver. This style of badge was used throughout World War II and until the King's untimely death in 1952.
It was then updated with a Queen's Crown and was white metal with a brass center with the ER II cipher. The helmet fittings were also changed from brass to polished/chromed metal and the spike was replaced by a ball-top. This style of fittings remained until the unit was combined with elements of the Transport Company.
Peter Suciu
October 2017