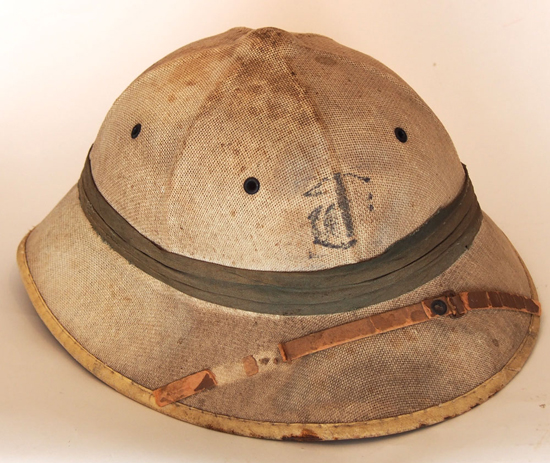 At the recent Show Of Shows (SOS) in Louisville a fascinating helmet was found – and to say I've never seen anything like it would be an understatement. It appears to be a commercial/civilian sun helmet likely from the 1930s. It features a USMC EGA (Eagle/Globe/Anchor) stamp on the front, and the faint remnants of a USMC stamp on the inside rear visor.
This helmet is of the basic shape of the pressed fiber helmets that were used by the USMC from the 1930s to the modern day. Exactly when this helmet was made is unclear – and any opinions or theories would be welcome.
It is this author's theory that it is an early prototype – possibly a test helmet of the early Hawley helmets, but it could also be a commercial contractor helmet that was used near a USMC base or outpost such as Wake Island or the Philippines. In such a case it wouldn't be unreasonable to assume that a Marine might have "pressed" the helmet into service.
However, it could also be an "in-country" item from Vietnam or another USMC outpost. Perhaps it was a gift to a retiring Marine? In the end we likely will never know. It is a fascinating example nonetheless.
We welcome any insight or suggestions.
Peter Suciu
March 2017