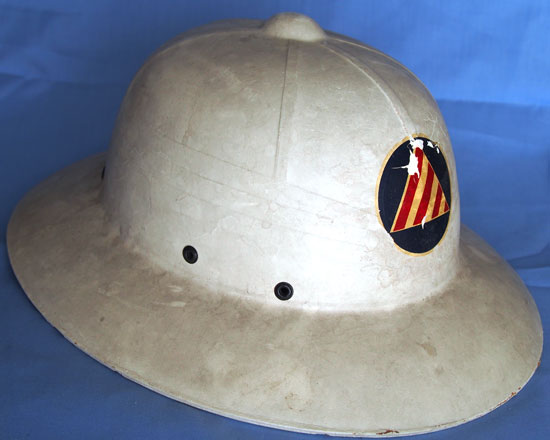 One interesting footnote in the history of the American pressed fiber sun helmet is its use by various Civil Defense groups. While the helmets likely were never produced specifically for such use, following World War II many of these helmets were likely adapted for the Civil Defense.
Why these were used in place of the familiar white metal helmets and hard hats isn't clear – in fact only a handful of pressed fiber helmets have turned up over the years that are linked to the Civil Defense.
The origins of the United States Civil Defense go back to August 24, 1916 when the Council of National Defense was formed to coordinate resources and industry in support of the war effort. It was briefly revived in World War II, and evolved into the Office of Civilian Defense. The agency was terminated on June 4, 1945, but a new agency, the Office of Civil Defense was created in the 1960s – and as the Office of Civil and Defense Mobilization existed until 1979 when it was replaced finally by the Federal Emergency Management Agency (FEMA).
Given these facts it would seem that most of the pressed fiber CD helmets were likely in fact from the 1960s, a time when the military was disposing of their sun helmets. As with the rest of the CD items these remain an interesting artifact from a time when many likely expected another and more devastating war. If such a conflict occurred the CD helmet might as well have been worn – because it would have provided protection from a nuclear blast about as well as anything!
Peter Suciu
February 2017