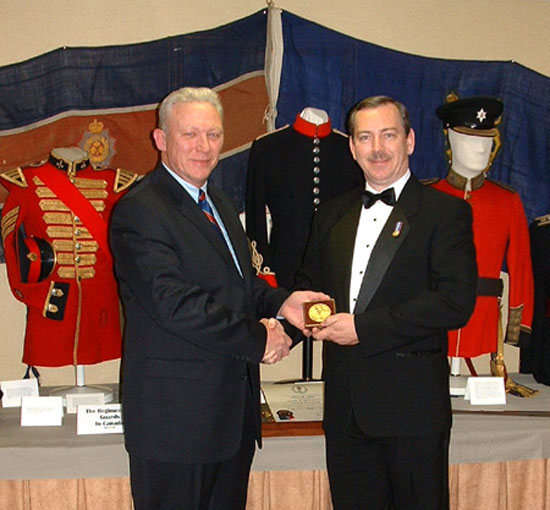 It is with great sadness that we share the news that our good friend Clive Law, owner and operator of Service Publications in Canada, has passed away. Clive suffered a massive stroke a week ago and sadly did not recover.
Clive was one of the most knowledgeable collectors of Canadian militaria, and was the author of several noteworthy books. Clive was a dear friend and he will be truly missed.
He was an officer of the Governor General's Foot Guards and was awarded the Queen Elizabeth II Golden Jubilee Medal for his contributions to society. The medal was awarded in early 2003, in recognition of his publishing accomplishments. The medal was presented by Dr. Serge Bernier, Director, History and Heritage at the Department of National Defence.
In May 2005 Clive was elected a Fellow of the Company of Military Historians. He was also the recipient of the Loren Miller Medal for a display of concentrating on the uniforms of the Canadian Guards that he exhibited at the annual meeting in Providence, Rhode Island.
In 2009, as a Senior Public Servant, he was deployed to Haiti in support of OP MINUSTAH. During his time on deployment, he was instrumental in being part of the establishment of the St John Ambulance First Aid, as the standard of the Haitian National Police.
In 2010 Clive was inducted as a Serving Member into the Order of St John, and was also presented with the Canadian Peacekeeping Service Medal by the Commissioner of the Royal Canadian Mounted Police. In 2012 he was presented the Queen's Diamond Jubilee Medal following nomination by the Organization of Military Museums of Canada. This was presented by Richard Pound, Honorary Colonel of the Canadian Grenadier Guards.
Clive was active in many Canadian Military Research groups and organizations.
The military collecting world is diminished by this loss. Our prayers are with Clive's wife Elizabeth and his son Richard.
Vale Clive