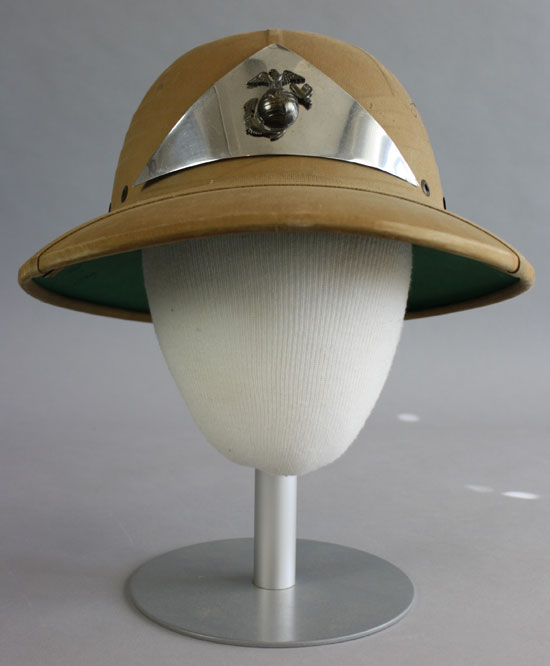 Our friends at the National Museum of the Marine Corps recently shared some photos of the above helmet. It is truly something we've never seen before. It was suggested that the unique triangular metal plate may have been worn to identify the owner as an "instructor" but more information isn't available.
Here is what the museum was able to share:
This Korean War era, Marine instructor Fiber Helmet belonged to Corporal James Corbett Markwell.
James Markwell was born in Cass County, Indiana. He enlisted in the U.S. Marine Corps in October 1952, during the Korean War. Sent to Marine Recruit Depot, San Diego, he was trained as a military truck driver and deployed to Marine Barracks, US Forces Asia, Honshu, Japan in October 1953. In the spring of 1954, Markwell was then promoted to corporal and assigned to Headquarters and Supply Company, 11th Marines, where he would remain until 1955. At that time he returned to the U.S., where he would serve with Maintenance Company, Service Battalion, Camp Lejeune, NC, until honorably discharged in October 1955.
His Korean War era (WWII produced) Hawley Fiber Helmet, has a unique triangular/decorative metal plate inserted behind the cap ornament. While the exact details for this accoutrement is unknown, we can assume the identifying "instructor" plate was worn by Markwell between July 1954 and Oct 1955, when he had reached the rank of corporal/NCO. During these times he was serving with the 11th Marines and Maintenance Co. Service Battalion.
We will certainly continue to research this one, and welcome any insight from our readers.
Our thanks to Owen Linlithgow Conner, curator of Uniforms & Heraldry at the National Museum of the Marine Corps.
Peter Suciu
December 2016