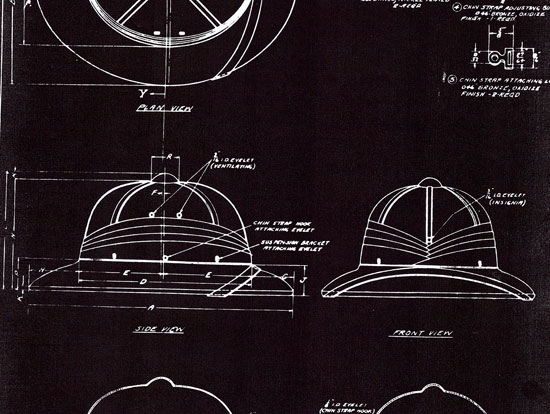 The history of the American pressed fiber sun helmet continues to be one that remains shrouded in mystery. However, thanks to my friend and colleague Alex Tulkoff some information has come to light. Mr. Tulkoff recently uncovered original blueprints for the helmet and more importantly a May 1941 dated Quartermaster order, which offers some insight information about the costs of the helmets.
The specifications for the helmets were adopted in October 1940 and corrected in May 1941. More importantly this also suggests that despite the common belief the helmets did in fact have a moniker: "Helmet, Fiber, Cloth Covered." The helmets were ordered to be made of khaki cloth with 124 warp and 54 filling of threads per inch, with a maximum weight per square yard of 6 ounces.
The documents noted that "the body shall be a one piece rigid fiber form or shell, impregnated with a varnish, or other water insoluble and water repellent material," and that the "body shall be uniform in thickness and free from lamination separations." The specifications noted that the body shall not contain less than 20 grams nor more than 30 grams of the impregnating material.
According to the documents 20,000 helmets were to be supplied by the International Hat Company – at a price of $1.35 each; while 24,000 helmets were to be supplied by Hawley Products Company at $1.36 each.
A follow up document from December 1942 called for the procurement of 100,000 "Helmets, Fibre" for delivery including 50,000 to the Depot Quartermaster in San Francisco, California; 25,000 to Clothing Officer, San Diego, California; and 25,000 to Depot Quartermaster, Philadelphia, Penn.
Thank you Alec Tulkoff for sharing these documents and blueprints. This helps shed a bit more information into the history of these helmets.
Peter Suciu
December 2015