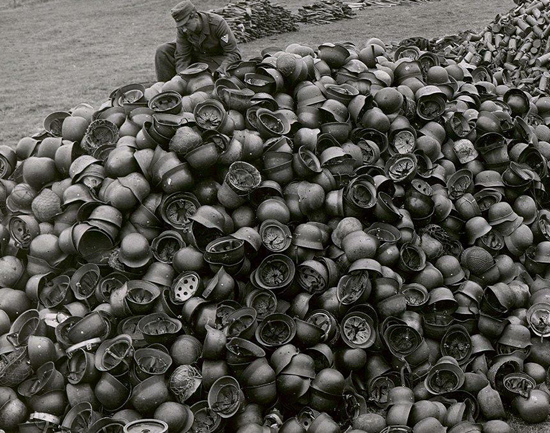 There are dozens of known images – such as the one above – of piles of steel helmets that were collected during and then after the end of the Second World War. The Germans had collected massive piles of steel helmets from Poland, Denmark, the Netherlands, Belgium, and of course France. After the end of the war there were practically mountains of German steel helmets! All of these have been well documented in period photographs.
With conservative estimates the piles could literally be worth millions of dollars, and for collectors of steel helmets these photos have almost mythical quality. However, the question this writer has long had was whether there were ever similar piles of sun/pith helmets? Given the thousands of German and Italian soldiers who surrendered in North Africa at the end of 1943 it must be asked what happened to the equipment – notably the sun helmets.
One consideration is that sun helmets were not produced or even used in the same numbers as the steel helmets, but apparently there is some evidence that there were piles of sun helmets.
This press photo below is dated to June of 1941 and had the mocking title of "Here's Your Hat – What's Your Hurry?"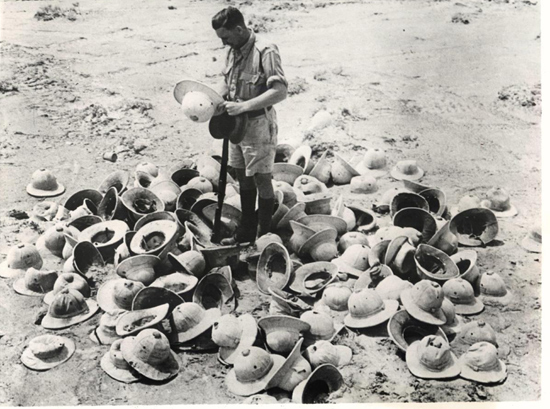 The caption reads:
"AFRICA – A BRITISH SOLDIER PICKS HIMSELF OUT A SUN HELMET FROM A PILE OF THEM WHICH WERE LEFT BEHIND WHEN ITALIAN TROOPS LEFT THE SCENE HURRIEDLY SOMEWHERE ON THE WESTERN DESERT."
The photo passed the British censor, but whether this example was ever published isn't known yet it serves as a window back to 1941. It is also notable that the Italian Model 1928 helmets in the photos seem to be lacking any cockade or badge, suggesting that a number of Italian soldiers did not in fact go into battle with the helmets with regimental devices.
The fact that so many have survived today with insignia – while plain ones are less commonly encountered – could also suggest that souvenir hunters (like the gent in the photo) liked the helmets with insignia the most!