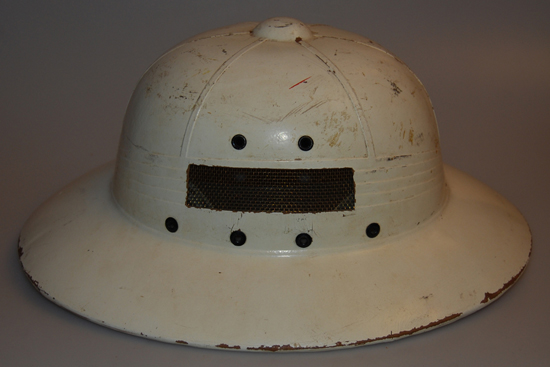 During the Second World War the St. Louis, Missouri-based International Hat Company, formerly the International Harvest Hat Company, produced the "pressed fiber" sun helmet for the United States Army, Marines and Navy. Tens of thousands of these were produced by International Hat Company based on the pattern developed by Hawley Products Company.
It is well-known, and widely established, that the United States Marine Corp used the International Hat pith helmet as both combat gear, as well as a standard part of the Marine Corps training uniform. In both roles the helmet had one major drawback – it didn't provide adequate ventilation to the wearer's head.
The helmet, which had the shape of the classic "safari" helmet had a faux ventilator at the top and only a few vent holes on the side. It is clear from the evolution of the helmet that both Hawley and IHC attempted to resolve this problem by adding more vents.
Recently this author came across what could be one-off prototype or experimental helmet that appears to a post-war era IHC helmet, which features a large cutaway on each side. This is covered with a wire screen to keep insects and other objects from getting in the helmet. This helmet features that same standard liner system as other IHC helmets.
At this point it is not clear if this was a single one-off prototype made by IHC for the civilian market or possibly an experimental helmet was meant to be field tested for military use. Both Hawley and IHC looked for alternative markets for the massive military-ordered stockpiles of these helmets following the end of the Second World War.
Further research will need to be conducted, but this remains a fascinating example of someone's attempt to allow cooler heads to prevail when wearing a pressed fiber sun helmet!
Peter Suciu
October 2014