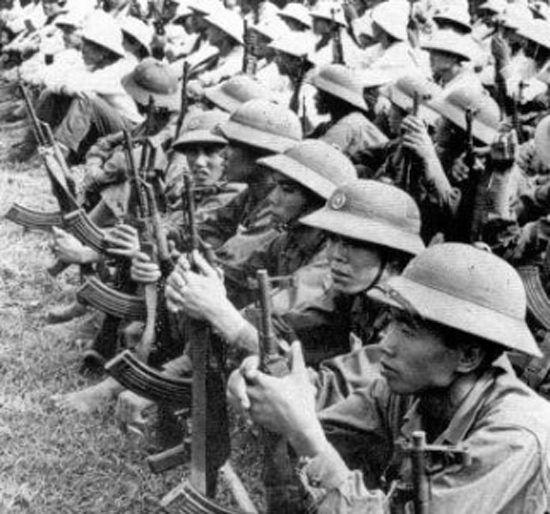 While khaki was typically the color uniform of colonial powers, it was also used – alongside with the sun helmet – by the forces of North Vietnam during the conflict with the United States. In 1958 the PAVN (People's Army of Vietnam) – also known as the NVA (North Vietnamese Army) began a modernization following its war that saw Indo-China "liberated" from French rule. This modernization included efforts to standardize its uniform.
While dark green is typically the color associated with PAVN forces, in the 1965-73 conflict with the United States, khaki and tan uniforms also became prevalent, especially among officers.
The standard PAVN uniform thus consisted of a dark green cotton shirt and trousers; but the same uniform was also manufactured in tan-khaki cloth. This was originally an "export" model issued to Pathet Lao and Khmer Rouge forces; as well to PAVN forces operating alongside those forces in their respective countries.
However, khaki/tan was also used by officers and POW camp guards – as well as by political officers and other branches of the PAVN.
Khaki/tan sun helmets were manufactured as well and this appears to have been the "early" pattern of the helmets – before the widespread adoption of green helmets.
The sun helmet was one of the few items actually produced by the North Vietnamese during the war – as most of their uniforms came from China. These helmets were made of a synthetic material called "phenolic," which was a cardboard impregnated with resin under pressure. During manufacture an outer cloth layer was permanently bonded to the helmet.
 Peter Suciu