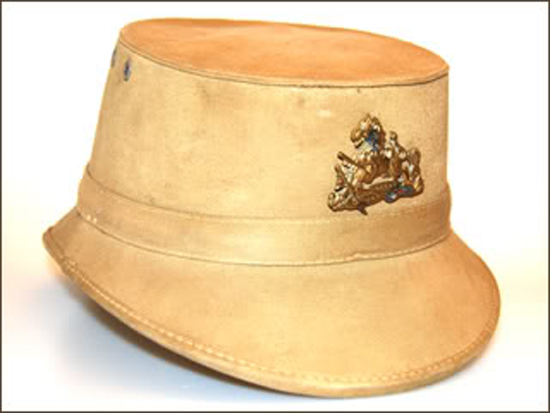 An interesting cousin to the South African polo style sun helmet is the shako used by forces of the British South Africa Police (BSAP), which was the paramilitary police force of Rhodesia. It was created as a force of mounted infantrymen in 1889 by Cecil Rhodes' British South Africa Company. It was originally known as the British South Africa Company's Police and run directly but the company.
In 1896 it began to operate independently and "Company" was dropped from its name. It remained part of Rhodesia' paramilitary police forces until it was disbanded following the formation of the Zimbabwe Republic Police in 1980. The unit saw action in the First and Second Matabele Wars, the Second Boer War, the First World War, the Second World and the Rhodesian Bush War.
Beginning in the interwar period the BSAP began issuing some troops with a German-influenced shako. It is worth noting that prior to the First World War some German Jäger units in German African and Asian colonies wore a tropical shako that featured a canvas covering as opposed to the traditional leather body. Whether this particular shako influenced the BSAP is unknown, but it is possible members of the BSAP encountered the German forces using the tropical shako in German East Africa during the First World War.
The BSAP shako produced of reinforced cork, and is flat on top. It features two vent holes on each side, and is notable in that it utilizes a Vero's Detachable Headband, which had a 1925 patent. This particular pattern of shako was used by other British colonial units, including the King's African Rifles.
Constable