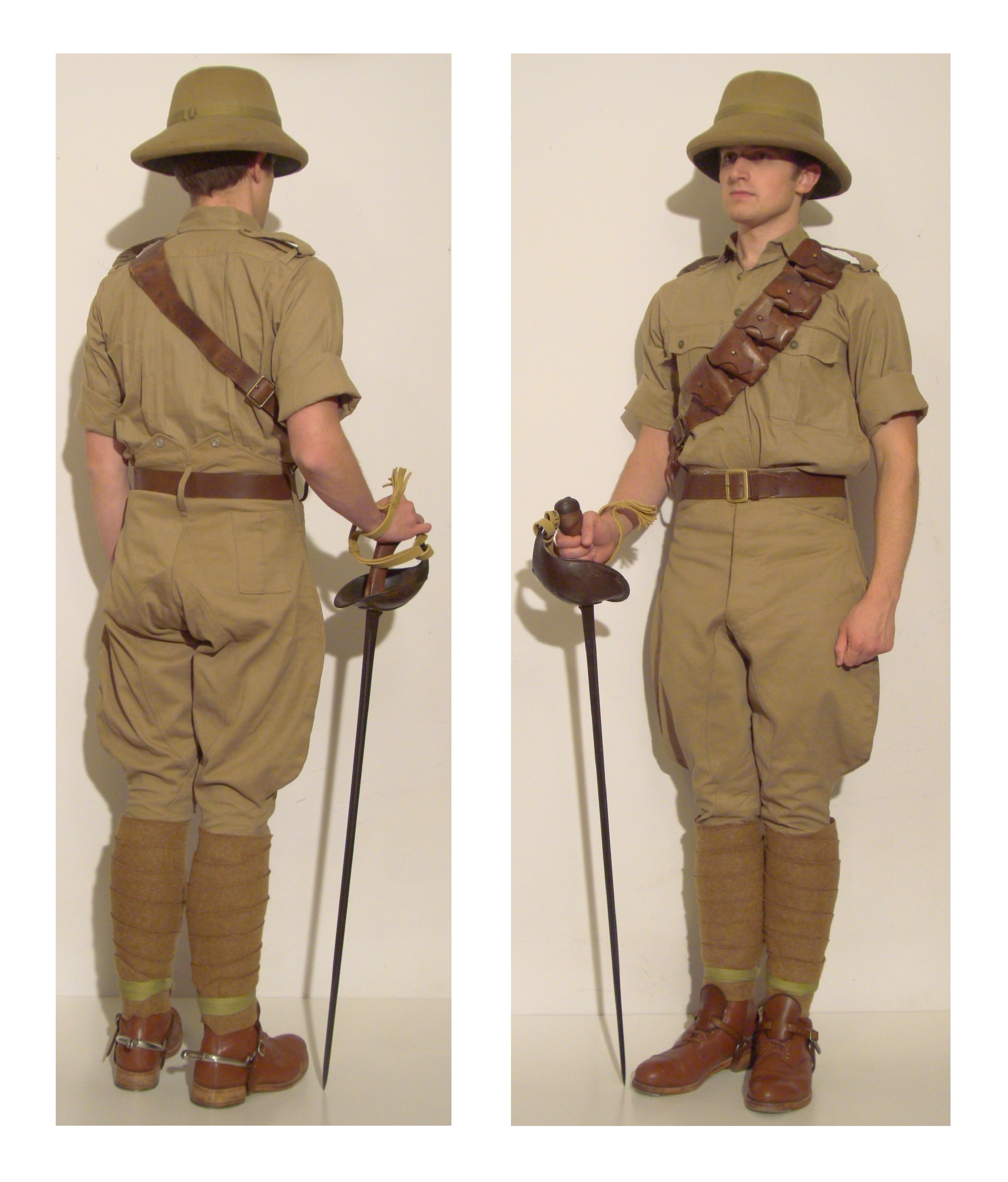 The formation of Rashid Ali's 'National Defence Government' in Iraq and its strong ties to Germany and Italy seriously threatened the British position in the Middle East in April 1941. As tensions mounted, the Iraqi Army began a siege of the RAF airbase at Habbaniya. In response, the British created a force to relieve Habbaniya from existing units in the British Mandate of Palestine. First Cavalry Division was an element of the newly created 'Habforce' (as it became known). Originally arriving in the Middle East in January of 1940 as a garrison and occupation force, the First was the last mounted division in the British Army.
This dismounted trooper of the Fourth Cavalry Brigade (part of the First Cavalry Division) has recently crossed the border from Palestine into Iraq. He wears the typical tropical uniform of the British cavalryman of 1920s and 1930s with the exception of the newly issued aertex shirt. In the coming months, he will take part in the occupation of Baghdad as well as the Syrian Campaign as part of Operation Exporter. (Anglo-Iraqi) (Habforce) (First)
1)      Indian pattern topee. (Chappell)
2)      Standard 'Aertex' shirt
3)      Pattern 1903 50 Round Bandolier, Mk. II; although largely unpopular with the infantry, this equipment was well suited for mounted troops. Here the five pocket version is shown, although the nine pocket version was more common among cavalrymen. (Thorne)
4)      Pattern 1903 waist belt, Mk. I; an enduring part of the 1903 bandolier equipment, this belt was often worn by British troops as simply a trouser belt. (Thorne)
5)      Khaki cord breeches; These Indian-made Jodhpurs are made of very heavy fabric with the reinforced inner thigh pads necessary for mounted use. They have two slash pockets in the front and a first field dressing pocket on the rear right. (Brayley)
6)      P1902 khaki cloth puttees; here worn in the cavalry style worn wound from knee the downward with tapes at the ankle. (Chappell)(Brayley)
7)      Jack spurs with leather straps and tabs.
8)      Hobnailed 'ammunition boots'.
9)      Sword knot; made of buff leather it consisted of a cord tassel and slider. (Chappell)
10)   1908 pattern cavalry sword; this thrusting weapon was largely considered the best cavalry sword ever designed. It featured a tapering 35 inch blade with a dark war finish, composite pistol grip hilt, and sheet steel bowl guard. (Chappell)
 Michael Skriletz
"Habforce." Wikipedia. Wikimedia Foundation, 09 June 2012. Web. 12 Sept. 2012. <http://en.wikipedia.org/wiki/Habforce>.
"1st Cavalry Division (United Kingdom)." Wikipedia. Wikimedia Foundation, 09 June 2012. Web. 12 Sept. 2012. <http://en.wikipedia.org/wiki/1st_Cavalry_Division_(United_Kingdom)>.
"Anglo-Iraqi War." Wikipedia. Wikimedia Foundation, 09 Aug. 2012. Web. 12 Sept. 2012. <http://en.wikipedia.org/wiki/Anglo-Iraqi_War>.
Chappell, Mike. British Cavalry Equipments 1800-1941. London: Osprey, 1983. Print.
Thorne, John, and Rog Dennis. "Karkee Web." Karkee Web. Karkeeweb.com, 28 Dec. 2008. Web. 23 Feb.
2012. <http://www.karkeeweb.com/>.
Brayley, Martin J., and Richard Ingram.Khaki Drill & Jungle Green: British Tropical Uniforms 1939-45.
London: Crowood, 2001. Print.