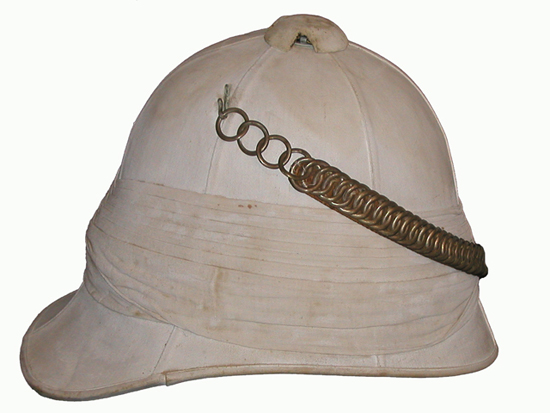 Objects of militaria  are often a link back in time. However, all too often we hear, "if only this piece could tell its stories." This of course will never happen, but occasionally we get lucky and are able to do some historical research and find out a bit more about a particular item. No longer do we think of a vague shadowy figure who may have worn the uniform, but we can find out a bit more about the original owner.
This is the case with a British Foreign Service Helmet, and storage tin that was once owned by Sir Charles Venables-Llewelyn of the Glamorgan Imperial Yeomanry. Inside the helmet are the stamped letters "C. V. L.," whilst the tin is marked to a "Major C. Venables Llewelyn."
Published  army lists show that Sir Charles was a territorial officer who eventually rose in rank to command the Glamorgan Imperial Yeomanry as Lieutnant Colonel. Following the First World War Sir Charles succeeded his father as Lord Lieutenat of Radnorshire, a county in Wales, from 1929-49. Likewise, his son Sir Charles Michael held this post, which later was combined with another seat. Sir John Venables-Llewelyn, grandson of Sir Charles, holds the office of Lieutenancy Office of Powys County Council today.
The1935 British edition Who's Who? and 1970 Burke's Peerage further noted that  Charles Leysham Dillwyn-Venables-Llewelyn was  "born 29 June 1870, died 24 June 1951. Assumed Venables name in 1893 upon marriage. Son of Sir John Talbot Dillwyn-Llewelyn, 1st Baronet (created 1890) Dillwyn-Llewelyn (1836-1927) and Julia Hicks-Beach (d. 1917, daughter of the 8th Baronet Hicks-Beach)."
During the during World War One the Glamorgan Yeomanry formed second and third line regiments the regimental tiles were the 1/1st, 2/1st and 3/1st Glamorgan Yeomanry. Sir Charles was promoted to Lt. Col. and given command of the 2/1st Glamorgan Yeomanry, which was formed September 1914, and joined 2/1st South Wales Mounted Brigade in January 1915. Brigade redesignated 4th Mounted Brigade in 1st Mounted Division in April 1916. November 1917, converted into a Cyclist unit.
Sir Charles had three sons, one of whom was killed in France in 1917 while another was  killed in Norway in 1940. Titles included: CLD D-V-L was Lieutnant Colonel of Glamorgan Yeomanry 1908-18, Colonel 1918. Served in France 1916-18. Lord Lieutenat of Radnorshire 1929-49.
Peter Suciu
Other Sources: Glamorgan: Its Gentlemen & Yeomanry 1797-1980, by Bryn Owen, The Starling Press Ltd. (1983)