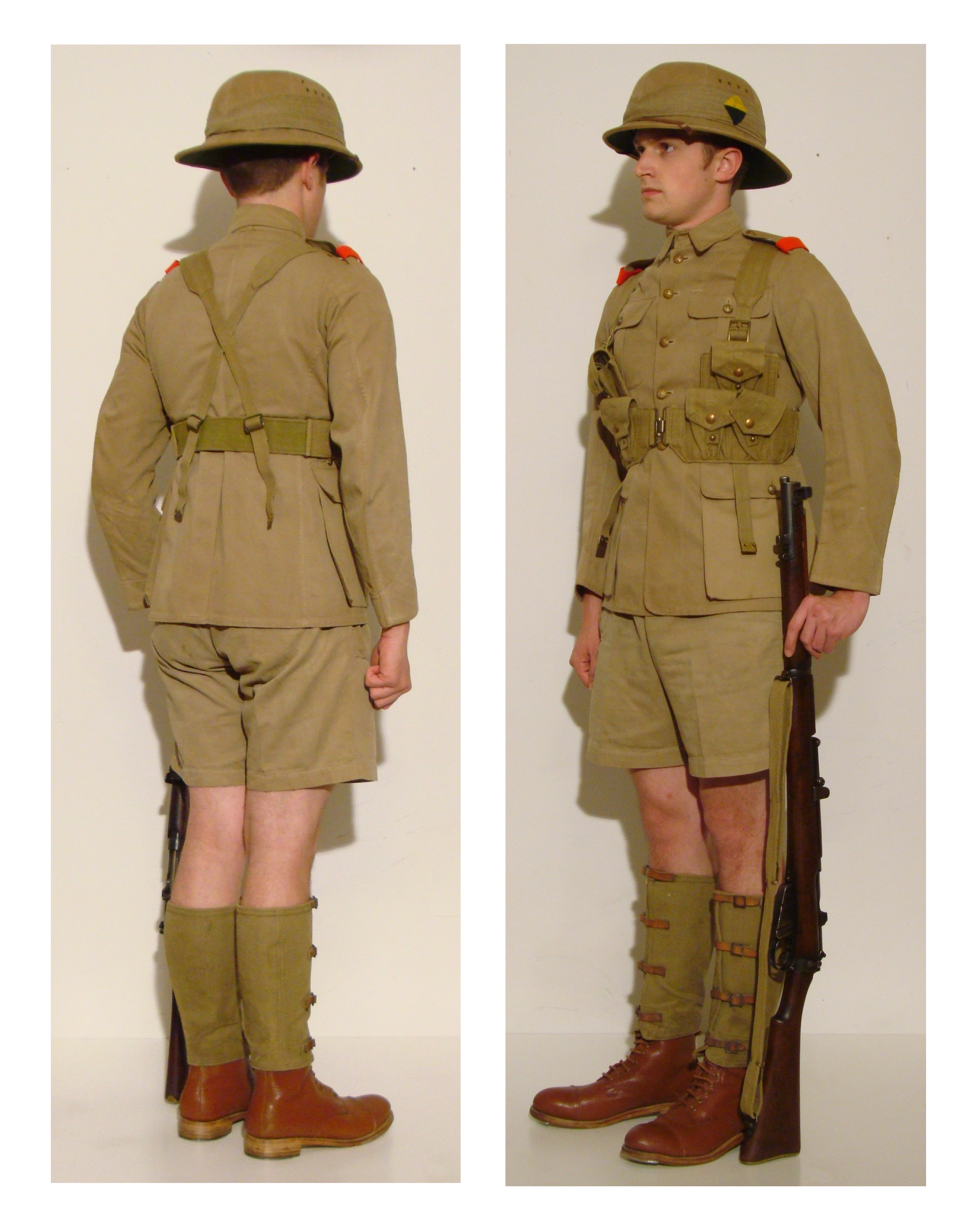 The Union of South Africa's entry into the Second World War in 1939 caused much controversy among its divided population, and in particular among Afrikaaners. This was in large part due to General Smuts' defeat of Prime Minister Hertzog's call for South African neutrality in parliament.
Given the tense climate, Smuts did not introduce conscription to fill the ranks of South Africa's military, the Union Defence Force, but instead relied on volunteers. The South African Defence Act also prevented this force from serving outside the borders of the Union. To circumvent this limitation, UDF volunteers took an oath to serve anywhere in Africa which entitled them to wear orange/red strips known as 'red tabs.' 1,2
This UDF soldier of the 1st South African Division has just recently taken his oath and awaits deployment to East Africa. His uniform and equipment are still of the 1930's type and will be replaced with newer patterns before departing.
South African Sun Helmet. Based on a polo helmet design, the South African Army began replacing the Wolseley pattern with helmets of this style in the late 1930s. This particular helmet is of British manufacture and therefore lacks the top ventilation. The flash fixed to the puggaree is the yellow and green diamond of the 1st South African Division and represents the sun yellow above the 'veldt green'. 3
 Khaki drill service dress tunic. As seen in many period photos of South African soldiers, this KD tunic has two lower patch pockets. On the ends of the shoulder straps are the orange wool 'red tabs'.
'No. 3 Infantry Pattern' Mills web equipment; these sets were specially ordered by South Africa in the mid 1930's and consist of three-pocket cartridge carriers and back adjustment strap.4
Khaki drill shorts of similar cut to the British pattern, but often more abbreviated.5
Four-strap canvas gaiters; another distinguishing mark of the South African soldier.
 Hobnailed 'Ammunition boots'.
 SMLE rifle No.1 Mk.III*
References
Dear, I.C.B., and M.R.D. Foot, eds. "South Africa, Union of," The Oxford Companion to World War II
Suciu, Peter. "British Sun Helmets (1877-current)." Helmet Collection of Peter Suciu (Retrieved online: http://www.nyc-techwriters.com/militaria/helmets.htm)
Thorne, John, and Rog Dennis. "Karkee Web," Karkeeweb.com, 28 Dec. 2008. Web. 05 Aug.2012.
Wilkinson-Latham, John, Montgomery's Desert Army. Vol. 66, Oxford: Osprey Publishing, 1977
Warwick, Rodney. "Afrikaners and the Second World War." South African History Online. Politicsweb, 6 Mar. 2012. Web. 05 Aug. 2012. <http://www.sahistory.org.za/archive/afrikaners-and-second- world-war-rodney-warwick>.