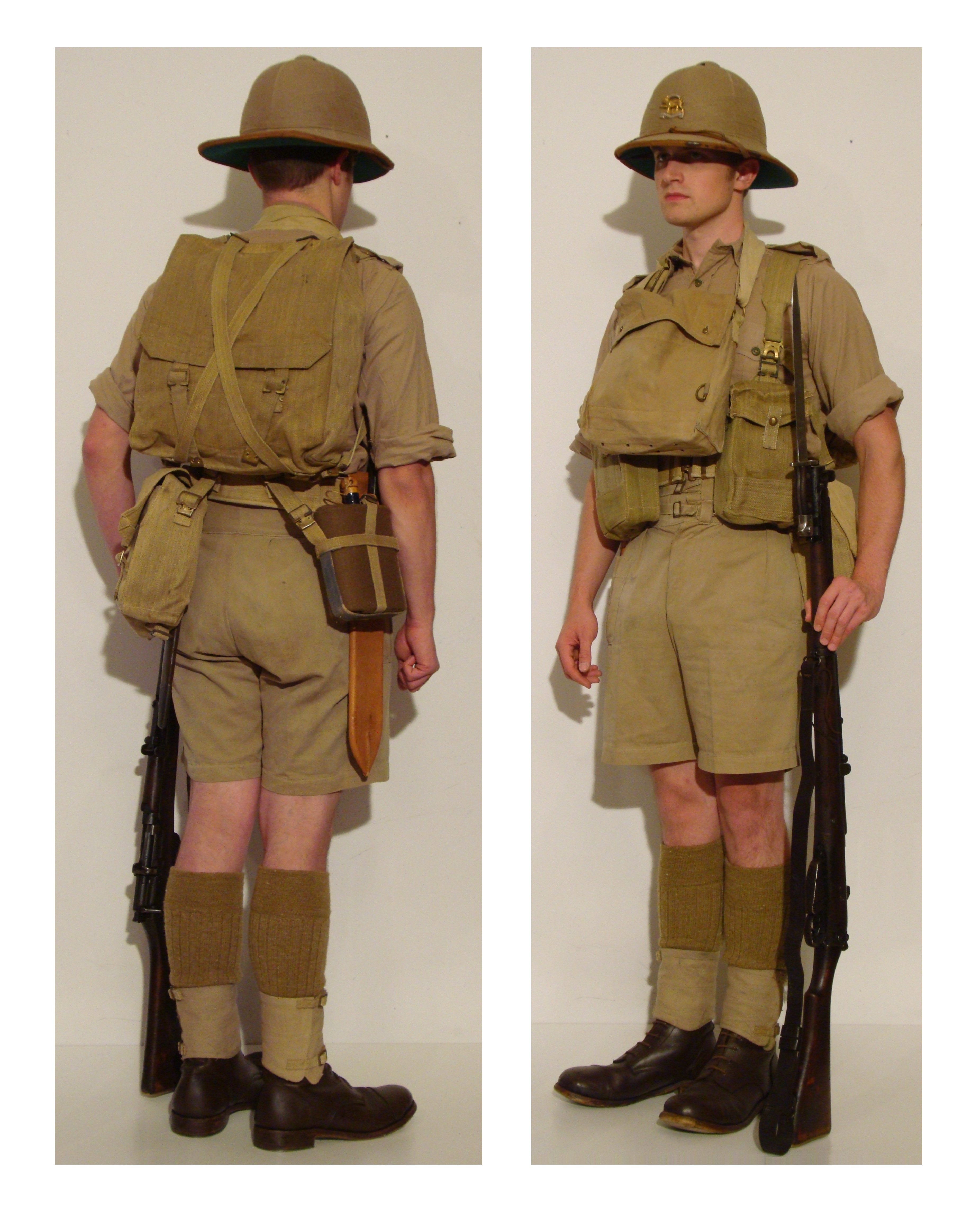 In 1919, Singapore was chosen as the most strategic location to construct a naval base to counter any move southward to India or Australia by the Empire of Japan. Throughout the 1920s and 30s, Singapore's defenses were increased and the fortress became known as the 'Gibraltar of the East'. By 1941 however, the Singapore garrison had been stripped bare to support the conflict raging in the West. (Singapore)This private of the Leicestershire Regiment has recently come to the city from his regiment stationed in Northern Malaya. He is in full Field Service Marching Order, issued with Indian-made equivalents of the standard British equipment. In the coming months, the Leicestershires and many other British Empire forces will fight a dogged resistance against a determined and ruthless Japanese drive down the Malayan peninsula without the aid of tanks or modern aircraft. (Part IV)
1) Wolseley pattern sun helmet; Introduced in the late nineteenth century, the Wolseley pattern became standard issue to all ranks in the British Army by the Great War. It was made of khaki drill-covered cork and featured a green lining, detachable leather sweatband and seven-fold puggaree. Affixed to the front of the puggaree is the cap badge of the Royal Leicestershire Regiment depicting a tiger under the word 'Hindoostan', recalling the regiment's long service in India. (Brayley) (Leicestershire)
2) Aertex pullover shirt; First issued in 1938, these half fronted shirts featured pleated breast pockets, removable epaulettes, and rubber buttons. (Brayley)
3) 'Small box respirator' in Indian-made Mk. VII haversack slung in the 'alert' position by a neck strap and held steady by a cord round the chest. The haversack differed from the British version by using a brass stud and eyelet arrangement rather than press studs to secure the flap. Indian- made haversacks were also far less durable than their British counterparts since they were made of lighter, coarsely woven fabric. (Mirouze WWII) (Brayley)
4) Indian-made 1937 pattern web equipment in 'Field Service Order'; Sets of Indian manufactured webbing were issued to British troops serving in the Far East and were generally of a looser weave than British made sets. (Webbing)
5) General purpose cutting tool; first introduced in the Great War, this machete featured composition grips and a leather scabbard (which tended to rot rapidly in the humid tropics). It was issued all over the world, typically one per section in temperate areas and often issued as a personal item to each soldier in tropical regions where it proved an invaluable tool for penetrating the dense jungles of South-East Asia. (Brayley)
6) 1941 pattern KD shorts with second-pattern field dressing pocket on the right front. This pocked featured double expansion pleats and was secured by a top button. (Brayley)
7) Long socks or 'hose tops' suspended by elastic garters; here concealed by the turned down tops. (Mirouze WWII)
8) 'Anklets web', These Indian manufactured anklets were made of thin webbing and lacked the interior leather chafing pieces of the British pattern, making them far less hard-wearing in the field. (Brayley)
9) Hobnailed 'Ammunition boots'. (Mirouze WWII)
10) Bayonet No.1 Mk.II; this shorter Indian pattern was introduced in 1941 and lacked the fullered blade of the 1907 pattern. With the blade length cut down to 12 inches, it was believed that troops using the SMLE in dense jungle would be far more maneuverable. (Brayley)
11) SMLE rifle No.1 Mk.III*; Here an Indian-made example produced by RFI (Rifle Factory Ishapore). Like most Indian made SMLEs, it has Ishapore Screw through the stock in front of the magazine. It was believed by Indian armourers that this addition strengthened the woodwork and absorbed recoil.
REFERENCES
Brayley, Martin J., and Richard Ingram. Khaki Drill & Jungle Green: British Tropical Uniforms, 1939-45. London: Crowood, 2001. Print.
"The Leicestershire Regiment." Wikipedia. Wikimedia Foundation, 28 Oct. 2011. Web. 23 Feb. 2012.
Mirouze, Laurent. World War I Infantry: In Colour Photographs. London: Windrow & Greene, 1990. Print.
"Part IV – The Second World War: 1939-1945." A Short History of the Royal Leicestershire
Regiment. The Royal Leicestershire Regiment, 2012. Retrieved Online 16 Aug. 2012.
"Singapore Strategy." Wikipedia. Wikimedia Foundation, 27 July 2012. Retrieved Online 16 Aug. 2012.
"Webbing, 1937 (Indian) Pattern (Skeleton Order)." Imperial War Museums. Web. 23 Feb. 2012.