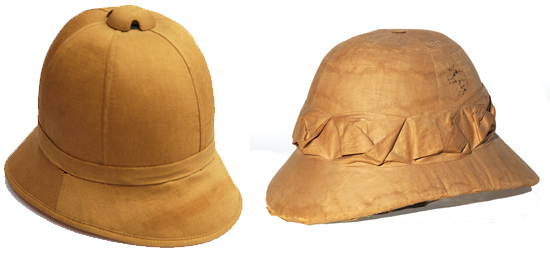 While the term "pith helmet" is commonly used to describe any sun or summer helmet, it isn't exactly accurate. Pith has entered the lexicon much as "Xerox" means "photocopy" or "Kleenex" means "facial tissue" – at least in English. The difference is that while some corporate brands have become generic terms, pith is not a brand but a material.
However, a "pith helmet" has come to be a style of helmet as well. In that regard, at least as in the style, the term is accepted. But it must be stressed that not all "pith helmets" are therefore constructed of "pith." In fact, many "pith helmets" are actually made of cork, but pith and cork are not one and the same – and despite some simplified explanations in books on military headgear, pith isn't even a type of cork.
The materials are dissimilar in where they are grown, how they are harvested and even in the part of the plant where the materials come from. The only thing in common is that both are plant based. Beyond this pith and cork are quite different.
Pith, also known as medulla, is a tissue in the stems of vascular plants, and comes from the center or spongy inner layer of the rind. The type of pith from "pith helmets" specifically comes from the sola plant, also known as the aeschynomene aspera.
This is quite different from cork, which is prime-subset of bark tissue, which is removed from the outside of the cork oak tree. Thus the two materials have virtually nothing in common, except again being plant-based. To add to the confusion Cork Oak has nothing to do with "cork trees," which do have a corky bark but aren't in fact used for cork production.
Sola pith is actually harvested with the entire plant being utilized to obtain the material, while cork is stripped from the outside of cork oak tree. Oak cork trees can live for 200 years or more, but must be at least 25 years old before the cork can be stripped, and subsequent harvests can then occur again only every 10 years. The first two harvests from a tree typically produce poorer quality cork, but quality generally improves over time.
Because of the long growth cycle conservation is key in cork production, and thus cork "forests" are maintained, which in turn insures that species living in the forests are protected by default.
While helmets are obviously made both of pith and cork, it is interesting that  term "pith helmet" came to be the generic name for this particular headgear. The reason goes back to the origin of the helmets – namely India. And the reason for the confusion can be summed up quite easily.
Colleague Doug Zinn, an advanced collector of sun helmets explains:
"Pith is not a type of cork. Pith comes from the plant aeschynomene aspera. This material was used – and still is – as floats for fishing nets, elaborate tiny sculptures, insulators, It is a very light material, however, not as resilient as cork. Although there were British made pith helmets, the majority were manufactured all over Asia, with the greatest production in India. All colonial powers wore helmets made of pith, however, primarily for civilian use. The British and Indian Armies wore pith and cork, of course, and one can find them worn by other colonial powers.
"English vernacular has embraced the terms "pith helmet" as the catch-all for any sun helmet. In some way, it's like people using Kleenex for all facial tissue. Also, people use "solar topee" and the actual Hindi is "sola topee", sola referring to the pith plant and topee meaning hat. The public changed "sola" to "solar" for sun. Language is a constantly evolving tool."
This brings us back to the point of "pith" vs. "cork" as the name. As the helmet pattern was in essence born in India and grew out from there the name stuck, and became the generic term for sun helmets.
And about the use of materials? That can be summed up by geography as much as anything else. Aeschynomene aspera – sola pith – is native to Bangladesh, Bhutan, Cambodia, India, Indonesia, Laos, Malaysia, Myanmar, Malaysia, Nepal, Pakistan, Sri Lanka, Thailand, and Vietnam. It is an aquatic plant and considered a minor weed as it typically can spread into rice paddies in the region.
Fortunately, a use was found for the fast growing, quick spreading plant. It was used to make hats, which of course evolved into the early sun helmets used by the British forces in India, including the Honourable East India Company.
By contrast the majority of cork is produced in Portugal and Spain, with a bit less from Italy. This helps explain, at least in part, why European made sun helmets were made of cork and not sola pith. As many military outfitters were still based in Europe the native materials were utilized as these were closer and easier to obtain.
Thus by the outbreak of World War I the vast majority of British-made helmets, as well as those of France, Germany and Italy, were made of cork. Straw was a common substitute material. By contrast Anglo-Indian helmets, such as the Cawnpore, Bombay Bowler and later the Khaki Sola Pith hat were still made of sola pith.
An interesting side point is that one pattern of Portuguese sun helmets – actually those that were originally designated for use by the Metropolitan Army of Portugal and meant for use domestically, but then used in Africa – were made of pressed felt rather than cork.
The reason is that the Portuguese government, which faced a financial crisis in the years leading up to World War I actually couldn't afford to buy cork, which was a valuable export product, and opted to use the cheaper pressed felt!
Today, sola pith helmets are still made in India and Pakistan, and cork helmets are still made in Europe. Other materials, including pressed fiber, pressed felt, wicker, straw and even plastics have been used to make the helmets. Regardless of what the material is, most people simply know these as "pith helmets."
Peter Suciu