Paget's Horse was an elite unit whose four companies (51st, 52nd, 68th and 73rd) 1 made up the 19th Battalion Imperial Yeomanry. "They were public school-educated men recruited through advertisements in gentlemen's clubs.
The battalion was raised by George [Thomas Cavendish] Paget, the son of a British general and a compulsive amateur soldier with a penchant for getting himself involved in any conflict that afforded the chance of action. He never seems to have been a regular officer but served in the Russo- Turkish War of 1877-8 and the Greco-Turkish War of 1897, as well as the Zulu War in 1879. Although aged 46 when the Boer War broke out, he went out to South Africa as second-in-command of his regiment and proved himself to be a man of some courage, being wounded twice. A portly figure who felt at home in the dining rooms and smoking rooms of Pall Mall, Paget recruited 500 officers and men from a tiny, hopelessly inadequate room at the Imperial Yeomanry Committee's offices in Suffolk Street. However, it at least had the advantage of being only a short stroll from the clubs of which he was a member. Paget's Horse wore a badge made up of the letters PH which provided a source of instant merriment for the wags on the streets of London, who suggested that it stood for 'Piccadilly Heroes' or more commonly for 'Perfectly Harmless'." 2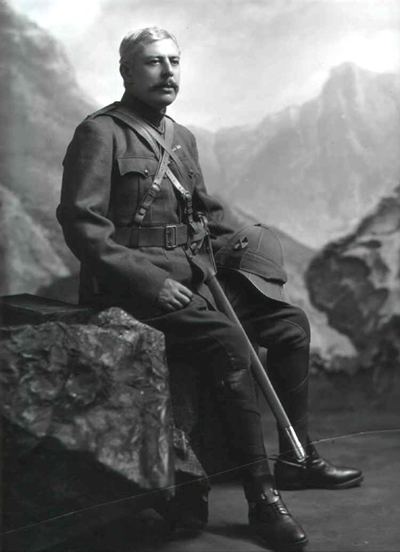 The 51st, 52nd and 68th companies departed on the troopship Tagus on the 16th March 1900 with the 73rd company following on the 31st March 1900 on the Delphic. 3 The battalion arrived in Cape Town, South Africa in April 1900 and was sent to Maitland Camp situated near Cape Town where it spent many weeks waiting for the arrival of its horses and was occupied in cleaning stables, fetching food and forage, striking tents etc. 4
On the morning of the 30th May 1900 a small detachment of Paget's Horse, led by Lt. J.G.B. Lethbridge, 52nd company, together with other Imperial Yeomanry units, Royal Canadian Artillery, and companies of the Duke of Edinburgh's Own, was engaged in an action at Faber's Put, in Griqualand West. Lt. Lethbridge was severely wounded with his left forearm being shattered and Trooper Mather was mentioned in despatches for assisting in bringing in the Lieutenant under "very heavy fire." 5 Casualties were heavy with Rose-Innes stating "twenty-six killed and fifty-one wounded" of the entire force engaged.6
Paget's Horse took part in several further actions, as well as convoy duty, including one "general engagement just outside Malmami where Sir Frederick Carrington and Lord Errol commanded. We galloped about from place to place the whole morning without firing a shot… We were not, I think, under actual fire altogether for more than half an hour, although the engagement itself lasted all day." 7 Four squadrons of Paget's Horse were present at this action. 8
There were many small engagements in which Paget's Horse played a part, in conjunction with Colonial forces of New Zealand and Australia. The main area of activity was western Transvaal notably around Mafeking, Ottoshoop, Rustenburg, Zeerust, Lichtenburg, Schweizer-Reneke and the Elands River Staging Post.
"On Friday, the 26th day of July 1901, by command of His Most Gracious Majesty the King, we paraded at the 'Horse Guards' to receive our medals." 9
Stuart Bates
Addendum: A reader has supplied a link to more information on Paget's Horse see http://www.debtitsorted.co.uk/a-soldier-safely-home-from-the-war-this-time/
1 The 51st and 73rd companies transferred to the 12th Battalion in 1902.
http://www.angloboerwar.com/
2 Bennett, Will, Absent Minded Beggars, Pen & Sword Books, 1999.
4 Rose-Innes, Cosmo, With Paget's Horse to the Front.
5 The London Gazette, February 8, 1901, p908.
6 Rose-Innes, Cosmo, With Paget's Horse to the Front.
7 Ibid.
8 The London Gazette, February 8, 1901.
9 Rose-Innes, Cosmo, With Paget's Horse to the Front.