The British army has long used khaki coloured uniforms for its troops. This goes as far back as the Indian Mutiny and possibly before with some regiments of the East India Company's army. The introduction and use of khaki into the British army is generally attributed to an army officer named W.S.R. Hodson, who later founded the irregular light cavalry, Hodson's Horse.
During the first Anglo Boer War of 1880-81 many officers and men were killed as their bright red tunics made them very easy targets for Boer Sharpshooters. Consequently the adoption of khaki drill clothing in 1884 for troops in the Sudan was authorised. A khaki cover for the original white foreign service helmet was also adopted, although not always popular with many officers. Later this cover was replaced with foreign service helmets covered entirely in khaki material.
With the drab colour of their new uniforms, many regiments now found it hard to distinguish themselves from other regiments when on foreign service and so, many adopted a helmet flash as a means of identification and probably to a greater extent due to Esprit de Corps.
To the best of my knowledge, there is no standard army dress regulation as to the size or position where helmet flashes should be worn on the helmet during Victorian times. The decision of size, shape, position, colour and choice of material all appear to have been left to the individual regiment or corps.
Victorian period photographs show helmet flashes being worn on the right, left, front and even both sides of Colonial and Wolseley helmets and in the case of the Gloucestershire Regiment additionally on the rear of the helmet in celebration of their victory at the Battle of Alexandria in 1801.
Some Scottish regiments wore patches in the shape of a diamond, square or rectangular style cut from the tartan of their old clan affiliations. The Cameronians (Scottish Rifles) wore a diamond shaped piece of Douglas tartan worn on both sides of the helmet, this was adopted in 1892.
The Black Watch wore no patch at all, just a Red Hackle (feather) tucked into a fold of the puggaree.  The regiment was awarded this distinction on the 4th of June 1795 for rescuing two field-pieces captured by the French at the battle of Guildermalson, January 1795.
Some regiments wore fancy puggarees as a means of identification, the Royal Scots Greys, initially wore a red cloth wound through the puggaree, this was replaced by a large yellow cross on each side of the helmet in 1901.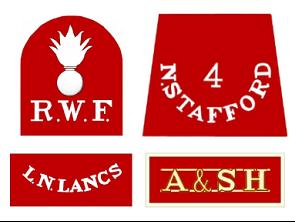 Many patches simply display initials such as R.W.F. to denote Royal Welsh Fusiliers. Others used a combination of numbers and letters indicating the battalion and regiment, while yet other regiments displayed abbreviated names such as L.N.Lancs for Loyal North Lancashire regiment, or incorporated collar badges, shoulder titles and even glengarry badges.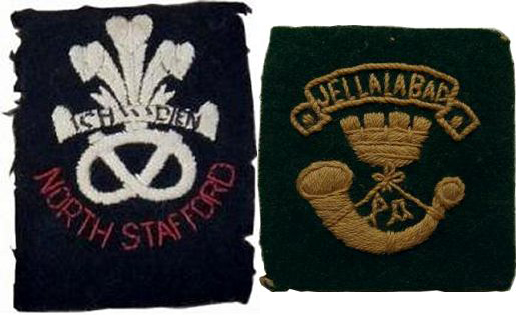 Some helmet flashes were a little more intricate exhibiting embroidered regimental badges or honours such as these two. The left one shows a helmet flash of the North Staffordshire regiment and the right shows a flash of the Somerset Light Infantry (Prince Albert's). Both are circa 1929 according to an article by John Mollo.
The use of helmet flashes on Foreign Service Helmets or even a painted logo on steel helmets to distinguish individual divisions or regiments has been used extensively throughout both world wars and continues into the modern day with some regiments of the army, as shown below in the helmet flash of the 1st battalion Royal Irish regiment. So the decision to cut up old epaulettes to aid identification in Victorian times is still very much alive and kicking over a hundred years later.
Benny Bough
Sources:
The Oxford English Dictionary
 1884 Health Exhib. Catal. 35/2   The new Khaki cloth, the material has been adopted by the War Office for the troops on active service. Note: "In India, khaki was used for uniforms by the Guide Corps under Lumsden and Hodson in 1848, by the troops in the Mutiny of 1857, in the Afghan campaigns of 1878–80, etc. It was worn in the Sudan Wars of 1883–98, and esp. by the British troops in South Africa in 1899–1902.
Kidd, Ron, The Formation Sign, The Military Heraldry Society, FS 203-207, 209-210, 221-222, 229,232, Regimental Patches Worn during the South African War
Knight, Ian with Embleton Gerry, The Boer War of 1899-02, Men-At-Arms #303
Mollo, John, The Formation Sign, The Military Heraldry Society, FS 146-147, 149-152, 155, 158 Khaki Foreign Service helmet Embellishments, 1920-1940