Ellwood and Sons were among the first, if not the first, English helmet manufacturers to supply the Indian trade and specialized in felt headgear for officers of the Honourable East India Company's army and later the British Army in India. Their helmets were in use in India during the 1840s but with the advent of cork helmets, especially those of Hawkes & Co., declined in use from the late 1860s onwards.
In 1851 the company applied for and was granted a patent for their air-chamber, or double-skinned, helmet, the details of which follow.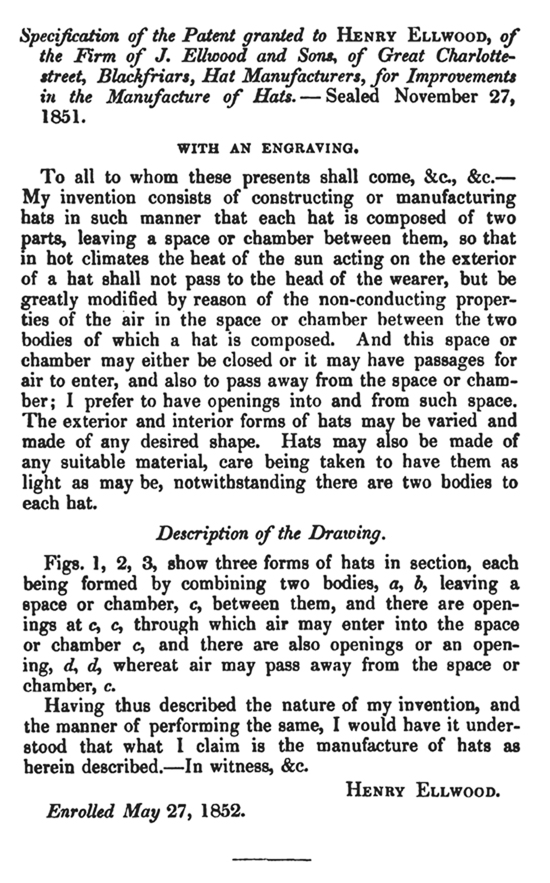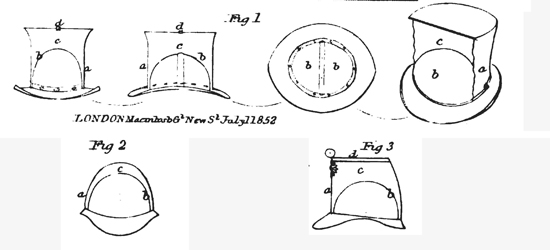 As can be seen from these figures the design was extended to top-hats, shakos as well as the military sun-helmets with which we are so familiar today.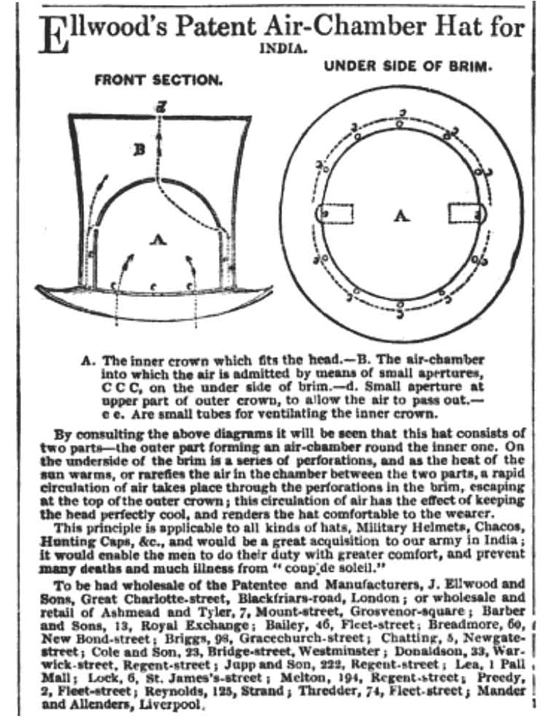 The above page more adequately describes the ventilation between the two shells. It is important to note that there is no provision for the escape of heat, emanating from the wearer's head, out of the inner shell which must have lessened the overall effectiveness of the design. This is shown most clearly in the following diagrams but some contradiction is evident by the front section in the top hat illustration above which, possibly, does show air flowing from the outer air chamber into the inner shell and exiting at the top. It is a distinct shame that the actual patent application narrative makes no mention of this.
The following extract from a Royal United Services Institute lecture, of 1868, illustrates a helmet for the Bombay Staff Corps and the accompanying narrative does, indeed, describe the inner shell being ventilated to enable airflow through it. Perhaps a modification to the original design?
Ellwood and Sons were a successful manufacturer of both military and civilian headdress from the 1840s onwards. Their patent was defended in 1864 with the London Times of December 19th 1864 reporting –
Concerning action taken on 20th and 21st June in the Court of Common Pleas at Westminster in which Ellwood and another of 24 Great Charlotte Street, Blackfriars Road, Southwark, wholesale hat manufacturers were plaintiffs and Christy and others of no 35 Gracechurch Street were defendants. The Court of Common Pleas on 15th November having refused the defendants application for a new trial Ellwood's solicitors, Grane, Son and Fesenmeyer let it be known that they would proceed in Chancery against all persons manufacturing hats, caps or helmets constructed on the principle of Ellwood's patent air chamber hats and helmets.
Ellwood and Sons never recovered from the "onslaught" of the entry of Hawkes & Co. into the military market with their patented cork laminate constructed helmets but continued on, changing their company name to Ellwood Hats in 1933/4, until the late 1930s/early 1940s.
My thanks go to Benny Bough who unearthed the Ellwood's patent for me and supplied additional information.
Stuart Bates